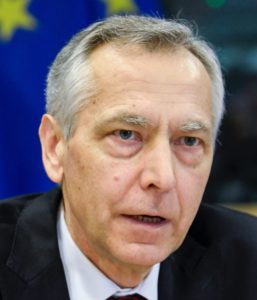 Ján Figeľ is a former EU Special Envoy for the promotion of freedom of religion or belief outside the European Union
Why is religious freedom important? Because it is a measure, principle, and instrument of humanization and civilizational process. It makes every society and time more humane, more respectful, and just.
It is important because freedom of religion or belief (FoRB) is an expression of human dignity belonging to each person and community, society, nation. The primary role of any power and authority is to provide peace to its people. Peace is the fruit of justice, and justice today is centered around human rights for all.
Human dignity is a foundational principle of all human rights. We have rights and duties because we are endowed with the dignity of the person.
FoRB is a very central and expansive right. Centrality is proven by placement and content. FoRB is represented by Art. 18 of the Universal Declaration of Human Rights, in the center of the list of 30 articles. It is an expansive right and a very influential issue. Because it tackles rights implemented individually or collectively, in private or in public, by teaching, practice, worship, and observance.
FoRB represents freedom of thought, conscience, and religion—the deepest expression of one's personal freedom. If this is not respected by a political regime or public authorities, then other rights are disrespected as well—freedom of opinion, of expression, of media, association, assembly, etc. Therefore, we can say FoRB is a litmus test for all human rights! It is not above other rights but it is critical for a just and respectful (tolerant) society. It reveals the character of a political regime.
By its definition FoRB is crucial for believers and non-believers, citizens holding faith or none. FoRB is important for people from A to Z—from atheists to Zoroastrians.
Why is advancing religious freedom important? Because the worldwide situation is worrying and worsening. We see a trend of double negativity. The 2020 Pew Research Center survey found that 79% of the population live in countries with high or very high obstacles to their freedom of religion or belief. And numbers are growing! Only a minority of the global population enjoys religious freedom as a guaranteed civil right.
Nowadays there are various political regimes: authoritarian, totalitarian, and democratic. Other distinctions speak to states' secular (majority) standing or their religious/antireligious (ideological) postures. Levels of problems can be gathered into four categories: intolerance, discrimination, persecution, and genocide (crimes against humanity, war crimes). All these forms exist in current practice. For example, persecution of Christians, as it is observed in the 2019 FCO Truro's Report, represents the most shocking abusesof human rights in the modern era.
Forms of FoRB advancement are manifold. But advocacy and defense remain the most acute and practical aid. In recent decades there is growing institutional and policy support for FoRB promotion and protection in international relations (the 1998 U.S. International Religious Freedom Act 1998, the Magnitsky Act, the 2013 EU Guidelines on the Promotion and Protection of Freedom of Religion or Belief, the establishment of the EU Special Envoy in 2016—followed by similar institutions in Denmark, United Kingdom, Germany, Hungary, Netherlands, Poland, Czech Republic, Lithuania, and Estonia). There were vocal and successful ministerial FoRB Advancement Summits in 2018 and 2019 in Washington, D.C., and in Poland in 2020. The International Religious Freedom and Belief Alliance was established in February 2020 with 32 current member governments. They exchange information, share best practices, and organize joint diplomatic actions. There are different working groups (on places of worship protection, humanitarian crises, gender issues, development). Hundreds of parliamentarians are connected and acting within the International Parliamentary Platform for FoRB since 2014.
On the level of civil society, there is a plethora of NGOs like International Religious Freedom Roundtables, SEAFoRB, SAFoRB, foundations, training and learning platforms, etc. There are also academic efforts—the European Academy of Religion in Bologna, BYU Law School's International Center for Law and Religion Studies in Provo, Utah, Institute for Global Engagement, Religious Freedom Institute, G20 Interfaith Forum. A commendable result of this effort is the 2018 Punta del Este Declarationon Human Dignity for Everyone Everywhere.
We also observe the actions of religious actors in the spirit of social responsibility—the Amman Declaration, the Beirut Declaration of Faith for Rights, the Marrakesh Declaration, the Abu Dhabi Declaration on Human Fraternity and World Peace, etc.
We may say there is a need for the emerging Global FoRB Movement. This would be the best answer to the two above-mentioned negative trends. This broad movement represents the core of "FoRB climate change" which is needed in our times. The COVID-19 pandemic made this situation even more critical, polarized, and action-urgent.
Therefore, we need to engage in active citizenship, responsible structures in society, and educate for living together in diversity and in ethics of responsibility. These courageous commitments and positions are the best antidotes against the vast phenomena of indifference, ignorance, and fear.
The "FoRB climate change" that I am calling for and the enlarging FoRB global movement may substantially contribute to human dignity for all, strengthen the inspirational impact of equal, dignified citizenship, and promote constitutional or covenantal pluralism.