Blog series on current law and religion topics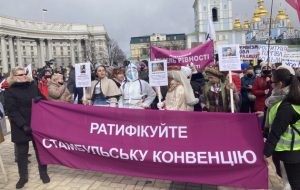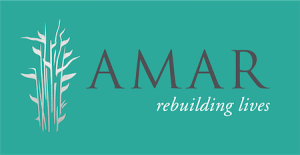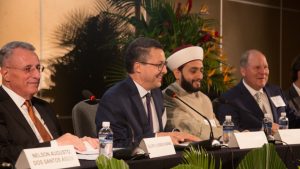 The First Brazilian Symposium on Religious Freedom was held in Rio de Janeiro, 23–25 March 2022. The symposium was organized by the Brazilian Center of Studies in Law and Religion and the International Center for Law and Religion Studies of the J. Reuben Clark Law School, Brigham Young University. Participants included dozens of leaders from religious organizations, academic institutions, government entities, and nongovernmental and civil society organizations—from Brazil and other Latin American countries, the United States, and Europe. The following summaries provide a small glimpse into ideas exchanged at this first-of-its-kind event
Edna Vasconcelos Zilli. Panorama of Religious Coexistence in Brazil
Marcio Henrique Pereira Ponzilacqua. Law, Religion, and Society: Sociology's View of Law and Religion
Ruth Junginger de Andrade. Thoughts on Law, Religion, and Society
Carmen Asiaín Pereira. The Reception of the Right to Religious Freedom in Latin America
Carmen Asiaín Pereira. La Recepción del Derecho de Libertad Religiosa en América Latina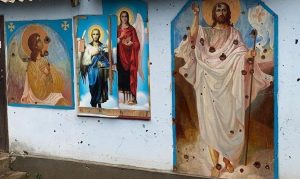 The religious component of the Russian-Ukrainian war has manifested itself in a variety of aspects: from religious justification and rhetoric employed by Russian president Vladimir Putin, to the perception of the war by Russian and Ukrainian Orthodox churches, to the dramatic situation with religious freedom in the territories under Russia and its proxies' control. These and other issues are discussed in this series.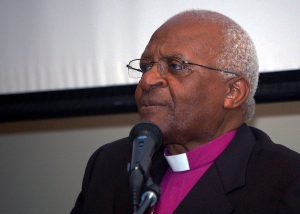 The series contains tributes to Archbishop Desmond Tutu who recently passed away. The posts commemorate Tutu's life-long efforts to promote peace, reconciliation, and human dignity and reflect on his legacy as a theologian and human rights advocate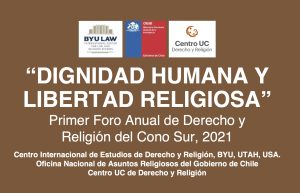 The First Annual Forum on Law and Religion of the Southern Cone, "Human Dignity and Religious Freedom," was held in Santiago, Chile, 28–29 October 2021. The forum was sponsored by BYU's International Center for Law and Religion Studies, the Chilean government's National Office of Religious Affairs, and the Center for Law and Religion at Pontifical Catholic University of Chile. Below are links to select forum remarks, available in both Spanish and English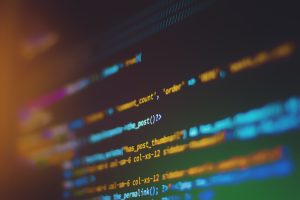 This blog series explores some threats that digital technologies can create to freedom of religion or belief and other human rights.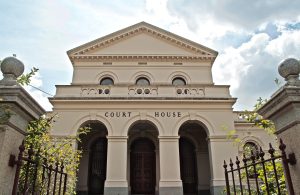 In this series, we provide different perspectives on religion and judging. Five contributors, academics and a U.S. federal judge explore religious diversity and the judiciary, interplays between religious convictions and judicial ethics, and the role of religion and religious beliefs in professional and personal biographies of judges.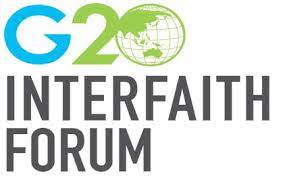 The International Center for Law and Religion Studies speakers at the 2021 G20 Interfaith Forum Summit in Bologna, Italy along with leaders from The Church of Jesus Christ of Latter-day Saints. Summit Theme is "A Time to Heal."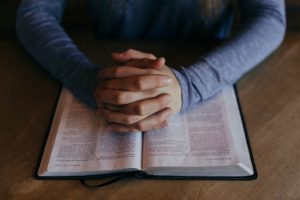 In June 2021 the ICLRS Blog, "Talk About: Law and Religion," hosted a webinar on advancing religious freedom in different political regimes. The panelists (Brett G. Scharffs, Seng Mai Aung, Ján Figeľ, Mine Yildirim, Knox Thames, and Elizabeth A. Clark) talked about their personal experiences in Iraq, Myanmar, Pakistan, Turkey, and Uzbekistan focusing on challenges and restrictions religious and belief communities face in these countries and other parts of the world.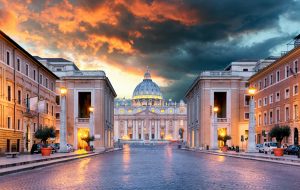 This series offers a set of essays written from various perspectives—Catholic, Orthodox, and secular—and with different outcomes—more positive and supportive, and more critical—concerning both ideas and approaches articulated in the 2019 Declaration and its political implications.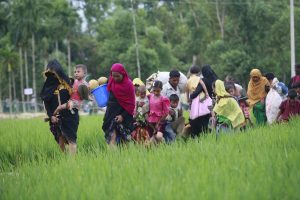 In this series we discuss the conception "grievous religious persecution" developed by Werner Nicolaas Nel in his recently published book.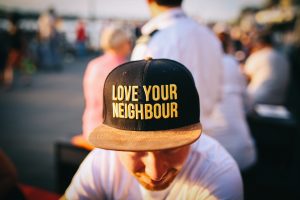 In this series, we look at the individualization of religious beliefs through lenses of social philosophy, religious studies, and law.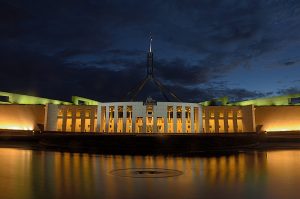 This series develops the theme we were discussing in one of our previous conversations: the normative, political, and symbolic role of mentioning God in the Australian Constitutions.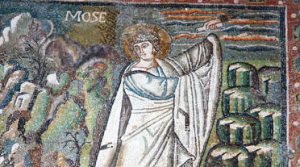 This series explores the normative, interpretative, political, and symbolic role of mentioning God, the Trinity, and other sacraments in secular constitutions. The contributors consider the German, Greek, Irish, Polish, and Russian cases.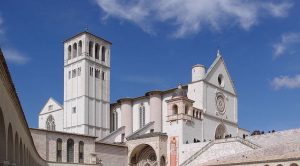 In October 2020, Fratelli tutti, Pope Francis's new encyclical was released. This 287-paragraph document provides a Catholic perspective on a variety of questions from human dignity and political integration from the lack of public trust and peacemaking to the death penalty and fake news. Talk About: Law and Religion posts a series of theological and philosophical reflections on Fratelli tutti.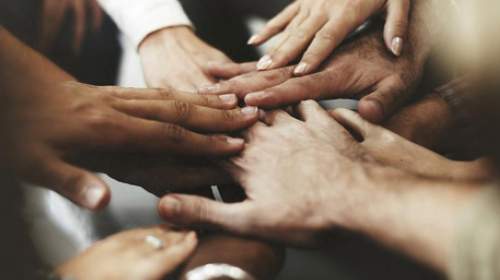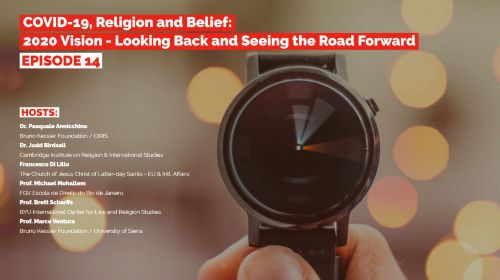 The Series Hosts join to reflect upon issues raised in the 14-part webinar series, COVID-19, Religion and Belief, sponsored by BYU International Center for Law and Religion Studies,  The Church of Jesus Christ of Latter-day Saints European Office, Bruno Kessler Foundation / CIRIS and University of Sienna, FGV Escola de Direito do Rio de Janeiro,  and the Cambridge Institute on Religion & International Studies.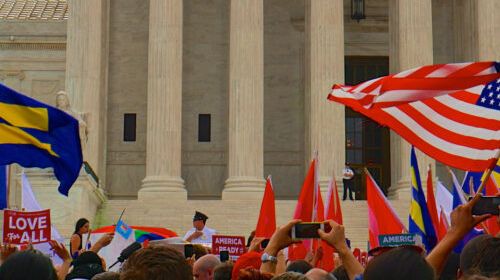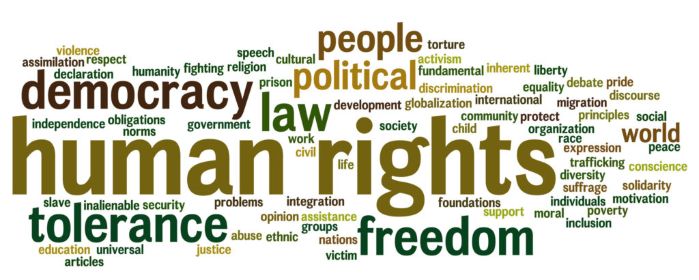 We have opened a conversation on the important and timely topic of Religion and the Rule of Law.  Existing posts are listed below.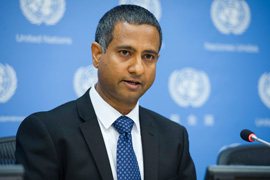 Participants representing academic and human rights institutions in the US, Spain, Turkey, and Germany weigh in.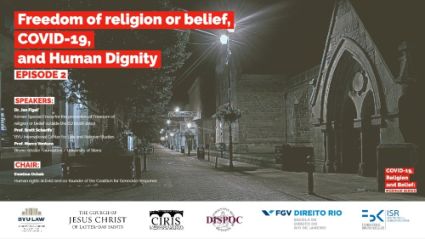 Developed from contributions to an international Webinar held 16 April 2010, Episode 2 of the Webinar Series COVID-19 and Freedom of Religion or Belief. Hear panelist addressing: How is this global emergency affecting our concept of human dignity? How can we ensure that restrictions to civil liberties that we accept for our collective safety respect human dignity and human rights?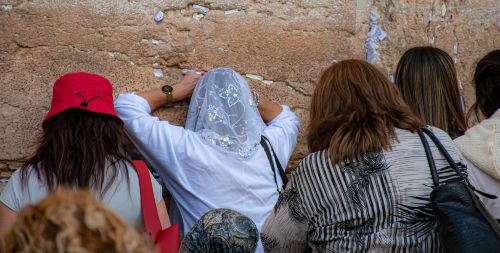 Scholars from Israel, the United Kingdom, and Ukraine discuss a landmark case,
'
believed to be the first time the criminal justice system in the UK has been used on behalf of an agunah – a "chained" woman left unable to remarry according to Jewish law because her husband denies her a religious divorce.'
Evoked in this case are issues not only of Jewish and British law, but of family law, religious autonomy, and women's rights, with "wide implications within the Orthodox Jewish community and potentially in other communities, when religious laws are abused .'