Post published:

May 19, 2022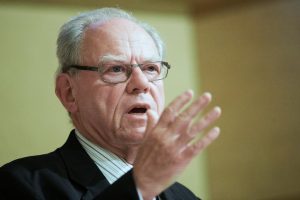 András Sajó is a former judge at the European Court of Human Rights. He is currently a University Professor at Central European University. He previously was a visiting professor and guest lecturer at University of Toronto, Columbia University, University of Chicago Law School, NYU School of Law, Cardozo School of Law (New York), Harvard Law School, Bocconi University (Milano), and other institutions. Professor Sajó received the Hungarian Academy of Sciences Book Award (1989) and The Blackstone Lecture at Oxford University (1993). He holds Honorary Doctorates from the European University Institute (Florence) and Ilia State University (Tbilisi). Professor Sajó has been involved in legal drafting throughout Eastern Europe. In addition, he participated and/or advised in drafting the Ukrainian, Georgian, and South African constitutions.
Professor Sajó has published extensively on constitutionalism, the rule of law, theory of democracy, the secular state, human rights, and media regulation. His recent publications include Routledge Handbook of Illiberalism (2022, co-edited with Renáta Uitz and Stephen Holmes), Ruling by Cheating: Governance in Illiberal Democracy (2021), Constitution of Freedom: An Introduction to Legal Constitutionalism (2017, co-authored with Renáta Uitz), and The Oxford Handbook on Comparative Constitutional Law (2012, co-edited with Michel Rosenfeld). In 2020, professor Sajó was appointed to the Meta Oversight Board, an independent body to which people can appeal if they disagree with corporate decisions about Facebook or Instagram content.
András Sajó was interviewed by Dmytro Vovk.
Do you see any comprehensive doctrine of freedom of religion or belief (FoRB) in European Court of Human Rights jurisprudence? Or does the Court use a more case-by-case approach and, as you said in one of your works with respect to national constitutional systems, has the Court "avoided arriving at unequivocal answers to the question of church-state or religion-state relations?"
If you try to make an analysis of ECtHR jurisprudence, you will see that it is significantly circumstantial. The Court got into the FoRB area relatively late, in Kokkinakis v. Greece (1993). It has a rather strong and relatively coherent approach when it comes to individual exercise of religion. However, when it comes to areas where FoRB conflicts with other rights like freedom of speech or non-discrimination, the Court's jurisprudence becomes somewhat less clear. Think about employment and labor rights. Although the Court has decided on the matter, I'm not so sure that this is the final word, particularly because of the latest developments in the European Court of Justice, which seems to go in a different direction. The same is true regarding church-state relations. Public secondary education is an obvious example here. Compare Folgerø and Others v. Norway (2007) with Lautsi v. Italy (2011), and you will see the same principles resulted in very different conclusions. So there are some guiding principles, but the way they apply is to a very great extent determined by national differences. That makes it much more akin to a case-by-case approach.
Continue Reading
Interview: András Sajó on Religious Freedom, Constitutionalism, and Democracy in the Jurisprudence of the Strasbourg Court