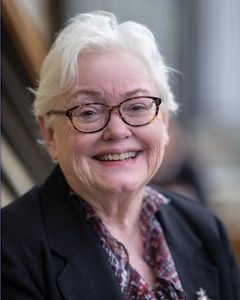 Jane Wise joined the International Center for Law and Religion Studies as an Associate Director in May 2017. For twenty years she was an adjunct professor (advocacy faculty) at BYU's J. Reuben Clark Law School, where she served on the legal writing and external relations committees. She taught legal writing, lawyering skills, and law and literature courses in the classroom, as well as legal writing classes online. She developed curricula for the American legal academy, including materials for English-as-a-second-language law students. The writing curriculum she helped design for BYU Law's Rex E. Lee Advocacy Program was ranked 17th in the nation for legal writing programs in law schools by U.S. News and World Report in 2000 and continues to be highly ranked.
Wise edited all print publications at BYU Law School for more than fifteen years and was editor of the Clark Memorandum, BYU Law School's alumni magazine published bi-annually. She is co-editor with Galen Fletcher of Life in the Law: Answering God's Interrogatories (2003) and with Scott Cameron and Galen Fletcher of Life in the Law: Service & Integrity (2009). She is author of three book chapters and numerous articles, films, and presentations. She has been a commentator on Public Radio International and National Public Radio, a featured columnist for The Salt Lake Tribune and Utah Valley Magazine, and an essayist for the "Music and the Spoken Word," the Sunday morning radio and television broadcast of the Tabernacle Choir at Temple Square.
Wise holds BA/BFA and JD degrees from the University of Utah. Prior to entering academia she clerked for the Utah Supreme Court and maintained a general practice of law. She retired from BYU Law School and the ICLRS in January 2022.
Talk About posts by Jane Wise: