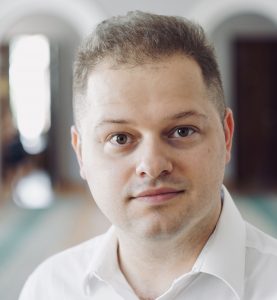 Dmytro Vovk is a visiting professor at the Benjamin N. Cardozo School of Law. He also runs the Center for the Rule of Law and Religion Studies at Yaroslav Mudryi National Law University in Ukraine and teaches law at Ukrainian Catholic University. He was a Kenan-Fulbright fellow at the Woodrow Wilson International Center for Scholars, a visiting researcher at Brigham Young University's J. Reuben Clark Law School, and a visitor at Northwestern's Buffett Institute for Global Affairs. Vovk has delivered guest lectures and talks at Northwestern University, Penn State, University of Padua, University of Catanzaro, University of Groningen, Central European University, and the Ho Chi Minh National Academy of Politics.
Vovk has been a rule of law, constitutional law, and religious freedom expert for several international institutions, including the UN Population Fund, the UN Special Rapporteur on Freedom of Religion or Belief, OSCE, the EU-funded project "Pravo/Justice," and USAID. As an international religious freedom expert, he has been involved in trainings; interfaith dialogue programs; and meetings for state officials, civil society, and religious leaders in Vietnam, Uzbekistan, Turkmenistan, the Balkan countries, and Ukraine.
He has advised and submitted FoRB-related amicus briefs to the Constitutional Court of Ukraine, the Supreme Court of Ukraine, and the Ukrainian State Agency for Ethnic Policies and Freedom of Conscience. He has also contributed to the joint opinion of the OSCE/ODIHR and Venice Commission on Uzbekistan's draft law on freedom of conscience and religious organizations. He has prepared a brief on religious contributions to counteracting domestic violence in Ukraine for the UNFPA Ukraine, a mapping exercise on FoRB and gender in post-Soviet states for the OSCE/ODIHR, and a policy paper on religion and forced displacement in Ukraine as part of a project funded by the British Academy of Science. Since 2019, Vovk has been a member of the OSCE/ODIHR Expert Panel on Freedom of Religion or Belief (the only Ukrainian appointed to this panel since its establishment in 1997), where he coordinates the working group on freedom of religion or belief and gender.
He has published extensively on the rule of law in post-Soviet countries, law and religion, and church-state relations. He co-edited with Elizabeth A. Clark the volume Religion During the Russian-Ukrainian Conflict (Routledge 2019), which the Journal of Contemporary Religion called "a much-needed English introduction to a thorny set of religious, political, juridical, and related problems concerning the Eastern Ukrainian conflict." He also co-edits the ICLRS blog Talk About: Law and Religion.
Talk About posts by Dmytro Vovk: