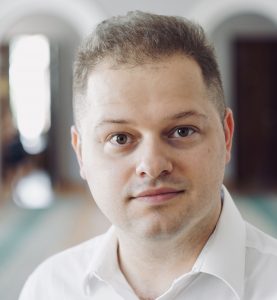 Dr Dmytro Vovk teaches law and runs the Center for the Rule of Law and Religion Studies at Yaroslav Mudryi National Law University in Kharkiv, Ukraine, and coedits this blog. He works as an expert on the rule of law and religious freedom for the UNFPA, OSCE/ODIHR, the Council of Europe, and Freedom House, and the USAID, and is an academic adviser to the Constitutional Court of Ukraine and the Ukrainian State Agency for Ethnic Policies and Freedom of Conscience. In 2019, Vovk was appointed a member of the OSCE/ODIHR Panel of Experts on Freedom of Religion or Belief.
Dr. Vovk was a Kennan-Fulbright Fellow at the Woodrow Wilson International Center for Scholars in the US (2017), a Visiting Scholar at the International Center for Law and Religion Studies, BYU Law School (2018-19), and a member of the inaugural class of the International Center for Law and Religion Studies' Young Scholars Fellowship on Religion and the Rule of Law held at Christ Church, Oxford, UK in 2018.
Among his recent authored publications are chapters "Forced Displacement, Religious Freedom and the Russian-Ukrainian Conflict" for the volume forthcoming in the Amsterdam University Press, and "Soviet Law and Political Religion," in Law as Religion, Religion as Law forthcoming in the Cambridge University Press, and the policy paper, Religion and Forced Displacement in Ukraine (2020); as an editor, Religion during the Russian-Ukrainian Conflict (Routledge 2020, with Elizabeth A. Clark); as a translator, W. Cole Durham, Jr. and Brett G. Scharffs's Law and Religion: National, International and Comparative Perspective (Russian translation, forthcoming in 2021) and Paul Gowder's Rule of Law in the Real World (Ukrainian translation, 2018).
Talk About posts by Dmytro Vovk: