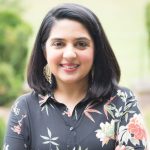 Asma T. Uddin is a religious liberty lawyer and scholar working for the protection of religious expression for people of all faiths in the U.S. and abroad. Her areas of expertise include law and religion (church/state relations), international human rights law on religious freedom, and Islam and religious freedom. Uddin is an active lecturer to diverse religious groups in the U.S. and overseas on the importance of religious liberty, and she is widely published on the topic by law reviews, university presses, and national and international newspapers.
Uddin has worked on religious liberty cases at the U.S. Supreme Court, federal appellate courts, and federal trial courts. She has defended religious claimants as diverse as Evangelicals, Sikhs, Muslims, Native Americans, Jews, Catholics, and members of the Nation of Islam. Her legal, academic, and policy work focuses on freedom of expression such as religious garb, land use, access to religious materials in prison, rights of parochial schools, religious arbitration, etc. Uddin worked with the U.S. Department of State on advocacy against the UN Defamation of Religions Resolution. She received a State Department grant to develop the Legal Training Institute in the Middle East and North Africa and Southeast Asian countries.
in addition to her legal work, Uddin writes and speaks on Muslims and gender. As the founding editor-in-chief of altmuslimah.com, she has managed the web-magazine, and organized vigorous debates and conferences on the multifaceted issues of gender, politics, and religion. Uddin has advised numerous media projects on American Muslims, including most recently as Executive Producer for the Emmy and Peabody nominated docu-series, The Secret Life of Muslims.
After graduating from The University of Chicago Law School, Uddin served as Counsel for the Becket Fund for Religious Liberty and as Director of Strategy for the Center for Islam and Religious Freedom in Washington, D.C. She is an expert advisor on religious liberty to the Organization for Security and Cooperation in Europe (OSCE), Senior Scholar at the Newseum's Religious Freedom Center, a Visiting Scholar at Brigham Young University Law school, and a non-residential fellow at UCLA and Georgetown University. She is also a term-member with the Council on Foreign Relations and an adjunct law professor at George Mason University Law School.
Talk About posts by Asma Uddin: