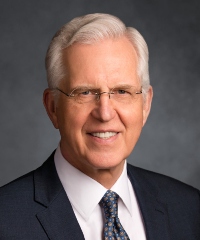 Elder D. Todd Christofferson has served as a Member of the Quorum of the Twelve Apostles of The Church of Jesus Christ of Latter-day Saints since 2008. As a General Authority of the Church, he has given talks and presentations on topics related to human dignity and religious freedom in dozens of countries around the world.
Elder Christofferson earned a bachelor's degree from Brigham Young University, where he was an Edwin S. Hinckley Scholar, and a law degree from Duke University.
He spent much of his legal career working as a consultant for financial entities in the United States. He was also a law clerk to the District of Columbia district court judge assigned to the historic Watergate case (1972–1974).
Prior to his full-time Church service, Elder Christofferson actively served in community affairs and religious organizations in both Maryland and Tennessee. He also presided over congregations as a stake president and bishop, and he served as a full-time missionary in Argentina.