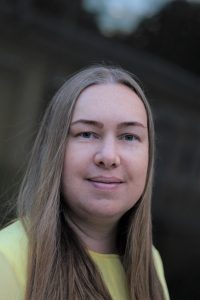 Yulia Razmetaeva, Ph.D. in Law, Head of the Center for Law, Ethics, and Digital Technologies at Yaroslav Mudryi National Law University, and an Associate Professor at the Department of Theory and Philosophy of Law of the Yaroslav Mudryi National Law University.
Yulia is the author of two books: Human Rights as a Fundamental Value of Civil Society (2013) and Doctrine and Practice of Human Rights Protection (2018).
Her research interests include the human rights issues in the digital age, law, ethics, and digital technologies  related to those issues. She has authored or co-authored articles on these topics in journals such as "Phenomenology and Mind," "TalTech Journal of European Studies," and "Access to Justice in Eastern Europe." In 2021 Yulia became a member of Groupement de recherche 2092 Techniques et production dans l'histoire, a federation of laboratories, researchers, and curators in the history of technology, based in France and open internationally.
Her last conference presentations include such topics as "Technological Neutrality and Religious Polarization in the Digital Age" (France, September 2021) and "Today's Technologies, Law and Artificial Reality" (Malaysia, November 2021).
Talk About posts by Yulia Razmetaeva: