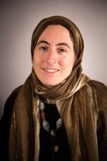 Christina Tobias-Nahi has been at the helm of Islamic Relief USA's public affairs efforts since 2006. Prior to rejoining the organization, Christina led International Programs at the Joint Council on International Children's Services, with a portfolio that included issues related to orphans and nutrition. She also managed the program Tech Girls, a summer program of the U.S. State Department and Legacy International that brings emerging female leaders from the Middle East and North Africa to Washington, D.C., for leadership training.
Christina holds a post-graduate certificate in Community-Based Development and an M.A. in International Relations from Boston University–Paris. She spent two years working in Paris for the Organization for Economic Cooperation and Development (OECD). She obtained her Ed.M. from the Harvard Graduate School of Education and worked at Harvard for nearly a decade with the Islamic Legal Studies Program and the Civil Rights Project.
In 2016, she participated in an interfaith, interagency team trip to Jordan, Lebanon, and Turkey. In fall of 2018, she participated in a similar visit to the Mória Refugee Camp in Lesbos, Greece.
Christina has utilized platforms such as UN Habitat III, the Conference on World Affairs, the G20 Interfaith Summit, and the 2019 International Conference on Religions and Sustainable Development Goals, convened by the Vatican, to speak and raise awareness about the refugee crisis.