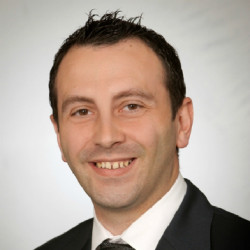 Francesco Di Lillo leads the European Union Office of The Church of Jesus Christ of Latter-day Saints in Brussels, Belgium, since its opening on September 1, 2013. Prior to this assignment, he worked at the Europe Area headquarters of the Church in Frankfurt, Germany, as Assistant Area Director of Public Affairs.
Before taking up these positions, he trained in public affairs and public information in Cyprus with the Italian Embassy, the United Nations Development Program, and finally with the United Nations High Commissioner for Refugees (UNHCR). With UNHCR, he assisted evacuation operations of civilians through the Port of Larnaca, Cyprus, during the Israeli-Lebanese conflict of 2006. Previously, he worked on project assignments with a marketing and communications consultancy firm based in Rome for the organization of national conferences and events. Francesco holds a Master's degree in Theory of Communications from the University Roma Tre, graduating cum laude with a dissertation on the proactive use of media as tools for conflict resolution and peacebuilding. He also holds a Master's in International Relations and Human Rights Protection from the Società Italiana per l'Organizzazione Internazionale.
Francesco was born in Rome, Italy. He is married since 2007 and is the father of four wonderful children.