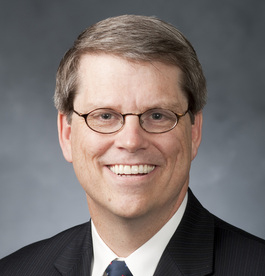 D. Gordon Smith is Woodruff J. Deem Professor of Law and Dean of the J. Reuben Clark Law School at Brigham Young University. He is a leading figure in the field of law and entrepreneurship and has done foundational work on fiduciary theory. He has also made important contributions to the academic literature on corporate governance and transactional lawyering.
Dean Smith served as the associate director of the Initiative for Studies in Technology Entrepreneurship at the University of Wisconsin, where he launched the annual Law & Entrepreneurship Retreat. More recently, he co-founded (with Brian Broughman of the Indiana University School of Law) the Law & Entrepreneurship Association, a scholarly society that encourages the study of law and entrepreneurship by organizing conferences and building networks of scholars. He is also one of the founding faculty members of the Crocker Innovation Fellowship at BYU.
A Delaware corporate lawyer, Professor Smith has written extensively on fiduciary law. Throughout his career, he has been active in developing scholarly communities. In 2004 he co-founded (with Christine Hurt, also of BYU Law School) The Conglomerate Blog, a popular law professor blog focusing on business law. He has served as Chair of the Section on Business Associations in the American Association of Law Schools (AALS), and he participated in the creation of the Section on Transactional Law and Skills, for which he currently serves as Secretary. In 2009 he served on the planning committee for the AALS Workshop on Transactional Law. During that same year, he co-founded the annual Rocky Mountain Junior Scholars Forum. In 2012 he co-founded (with Afra Afsharipour of UC Davis School of Law) the Transactional Law Workshop, a monthly virtual gathering of transactional law scholars. And in 2013, he co-founded (with Colleen Baker) the Business Ethics Book Club, a virtual book club of law professors, who meet once a semester to discuss a recent work on business ethics.
He has taught at six law schools in the U.S., as well as law programs in Australia, China, England, Finland, France, Germany, and Hong Kong. Before entering academe, Dean Smith clerked for Judge W. Eugene Davis in the United States Court of Appeals for the Fifth Circuit and was an associate in the Delaware office of the international law firm Skadden, Arps, Slate, Meagher & Flom.
Talk About post by Gordon Smith: