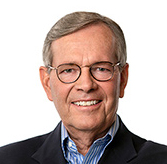 Michael O. Leavitt is Founder, Leavitt Partners,  Former Governor of Utah, and Former Secretary of Health and Human Services.  He has spent nearly twenty years building businesses in the risk management sector followed by sixteen years in public service.
In 1993 Leavitt was elected Governor of Utah. He served as governor for three terms (1993 to 2003) before occupying two roles in the Cabinet of President George W. Bush: Administrator of the United States Environmental Protection Agency (2003 to 2005) and Secretary of the United States Department of Health and Human Services (2005 to 2009).
Leavitt is the founder and general partner of Leavitt Partners, a family of businesses that provides investment support, data and analytics, member-based alliances, and direct services to clients to support decision-making strategies in the value economy. In this role, he helps clients navigate the future as they transition to new and better models of care.
Mike Leavitt is a noted author, and routinely appears as an opinion leader in TV and print media. He grew up in Cedar City, Utah, the oldest of six sons. A husband of more than 40 years and the father of five children, he is proud to be called Saba by his fifteen grandchildren. Despite his imperfections at golf, it remains his hobby of choice. After 45 years, Leavitt finally scored his first hole-in-one on his sixtieth birthday.
Talk About post by Michael Leavitt: