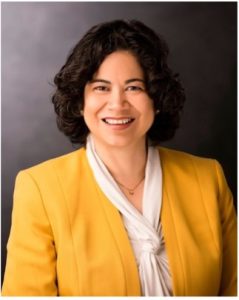 Sister Reyna I. Aburto has served since April 2017 as the second counselor in the general presidency of the Relief Society, an organization of The Church of Jesus Christ of Latter-day Saints that is dedicated to charitable service and includes more than six million women. As a member of the general presidency, she helps direct the organization's efforts worldwide and has traveled to dozens of countries, training thousands of women and families on religious topics, the role of women, and temporal and spiritual welfare. She also participates in Church counsels related to humanitarian aid provided by the Church to communities in need around the world.
Sister Aburto previously served on the Church's Primary General Board, which provides leadership training and helps oversee the Church's organization for children aged 18 months to 11 years, and in other capacities in the Church.
She attended Universidad Centroamericana, where she studied industrial engineering, and holds a degree in computer science from Utah Valley University. She has worked in the language industry for more than twenty-five years and owns a small translation business with her husband, Carlos Aburto.