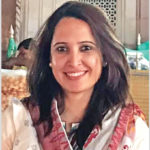 This guest post is by Farzana Mahmood, Barrister,  Executive Director, Bangladesh Manobadhikar o Poribesh Andolon. She was a member of the Inaugural Class of the ICLRS Young Scholars Fellowship on Religion and the Rule of Law, held in Oxford (2018). 
Why we need peaceful conversations between different religions
from the Dhaka Tribune – April 25, 2019
One of my Sri Lankan friends emailed yesterday: "Evil is released on Easter Sunday in Sri Lanka." Three churches and two hotels have been bombed on Easter Sunday while people were worshiping in the churches. The churches in Sri Lanka mostly worked for peace and harmony in Sri Lanka.
The recent developments of religious extremism in the post-war situation have become vicious. In the context of political coups, geo-political interests, violent mindset of the organized violent groups and individuals, this has happened."
This heinous crime committed against the particular religious community killed more than 300 people and nearly 500 were injured. This attack is not an attack only on the Christians or on the people of Sri Lanka, it is an attack on humanity. We express our solidarity with victims' families and the people of Sri Lanka at this time of grief and sorrow.
In Bangladesh also, we have seen how Jamaat promoted the Islamic bigots and extremists like Bangla Bhai, Shaekh Abdur Rahman, and the state patronized killing of minorities in the name of Islam.
On the other hand, sudden mob violence against religious minorities and religious places shows the growing intolerance beneath the fabric of a long-surviving religious pluralism and co-existence. For example, the local Muslims of Ramu at Cox's Bazar vandalized Buddhist temples in 2012, and a rumour turned some Muslim people of Rangpur into a crazy mob who burned a Hindu settlement to the ground in 2017.
We have witnessed how extremists slaughtered innocent people in a restaurant, how they bombed cultural programs, and how they attacked clergies and writers. This intolerance shows how far communalism has reached, and this offers a ground for the extremists to facilitate homegrown fundamentalism and recruit locals for extremist actions both in Bangladesh and abroad. Profiles of the recently investigated terrorists like Ansarullah Bangla Team (ABT) and Neo JMB have proven the existence of homegrown fundamentalism and its international connection.
There is no doubt that political use of religion promotes organized crime, communalism, and extremism, at the same time, misinterpretation of religion and lack of respect for other religion also helps communalism and extremism.
We have noticed in the past as well that religions and religious cultures of the world are misused, and the ideals of Holy Scriptures of all the faiths misunderstood and distorted, which causes conflicts and animosity between followers of different faiths in different part of the world.
In recent times, we have noticed how interfaith harmony and tolerance in Bangladesh is losing its ground in society, creating space for religious fundamentalists and extremists. Unless we address this issue seriously and create an environment of tolerance and acceptance of other religious faiths, we are bound to lose the diverse plurality that we have possessed for centuries.
Referring to the present context where communal harmony is threatened, and where the spirit of tolerance and acceptance of all religious traditions are not respected, dialogue between religious communities is necessary to avoid confrontation and to establish peace.
Dialogue between religions is necessary more than ever before, to fight against the evil of misunderstanding between religions. In all religious traditions, the normal temptation is to maintain that one's conviction is the only correct one, that one's own religion is the best one, and has absolute validity, which means denying the validity of others.
To claim sole possession of truth can be considered a sort of religious arrogance, given we consider all of God's creations to be worthy of the same respect and dignity. This claim of superiority also causes conflict — therefore to attain peace, one has to accept the plurality of faiths and traditions.
The aim of dialogue is never to criticize any religion or faith, but to acknowledge that the mystery and truth of God are endlessly rich and deep, which cannot be contained completely by any religion or spiritual tradition.
Dialogue should be held in such a way, that participants are able to learn from others' religious experiences, and good practices also shall develop an amount of basic trust in each other.
This sort of interfaith dialogue can create space for the unity of different faiths. As Swami Vivekananda said: "We want to lead mankind to the place where there is neither the Vedas, nor the Bible, nor the Qur'an — yet this has to be done by harmonizing the Vedas, the Bible, and the Qur'an."
If we can achieve such unity among all religious faiths and communities, we can combat communalism and extremism, and achieve peace and harmony. We can retain humanity.