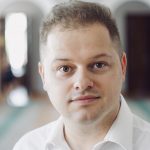 Dmytro Vovk is Director of the Centre for the Rule of Law and Religion Studies, Yaroslav Mudryi National Law University in Kharkiv, Ukraine, and co-editor of Talk About: Law and Religion

When Volodymyr Zelensky won the April 2019 presidential election, he became the sixth president of Ukraine, prevailing over his predecessor Petro Poroshenko by almost 50 percent.  To all Ukrainian presidents so far, religion has mattered greatly. After coming to power, these leaders develop their own model of church-state relations by favoring one or the other branch of the split Ukrainian Orthodox Church. For instance, President Poroshenko's crucial support allowed for the creation and recognition of the Orthodox Church of Ukraine (OCU) by the Ecumenical Patriarchate. Due in large part to this support in context of the Russian-Ukrainian conflict, church-state relations have culminated in religion becoming an inalienable part of state policies and public discourse on national security.
When Zelensky took office, questions about his religious policies were raised immediately. OCU sympathizers publicly warned the newly-elected president not to undermine the new church and not to support the UOC-MP, which they considered to be an agent of Russian influence in the country. In contrast, the UOC-MP itself called to vote against Poroshenko (that is in favor of Zelensky) and after his victory avoid criticizing him.
Zelensky's religious policies have been shaped by at least five factors: his personal attitude towards religion and churches, the expectations of his voters, the attitudes of his team, high public trust of religions in Ukraine, and geopolitics worldwide.
Personal attitude. Zelensky is a Russian-speaking secular Jew from the eastern Ukrainian industrial city Kryvy Rih, a region with a relatively low level of religiosity. As far as I can see from open sources, he grew up in a secular family. He does not demonstrate any sort of religious adherence in public or appeal to God in any of his speeches. Whereas Poroshenko preferred to give new year's addresses standing in front of Orthodox monasteries and referenced "tears of joy" filling the eyes of many Ukrainians after the creation of the OCU, in Zelensky's 2020 new year's speech, the new president mentioned religion or religions only in the context of religious diversity in Ukraine (including religious "nones"). In contrast to his predecessors, Zelensky did not participate in the annual celebration of the Day of Baptizing Rus, the National Prayer Breakfast in May 2019, or the celebration of the first anniversary of the OCU in December 2019. Assuming these omissions reflect his personal view of religion, he likely considers religion a matter of private life and individual choice that should not heavily influence state policies.
Expectations of Zelensky's voters. During the presidential campaign, Poroshenko's main slogan was "Army, language, and faith." He endorsed the OCU and disfavored the Ukrainian Orthodox Church of the Moscow Patriarchate (UOC-MP), deeming it for ties with the Russian Government. On the other hand, Zelensky restricted himself to general phrases about state neutrality and respect for religious autonomy. He did so in particular to keep from splitting his supporters. Some viewed the Tomos for the OCU as a political defeat of Russia and an important step away from the "Russian World," but others saw it as an inappropriate interference into religious affairs. Zelensky instead played on what united these people—a deep suspicion of thick version of civil religion in light of the pluralistic religious landscape in Ukraine.
Attitude of Zelensky's team. There is no consensus about religious policies in Zelensky's administration. While the media affiliated with the OCU accuses one of the deputy chiefs of the Presidential Office of lobbying for the interests of the UOC-MP, another official who is responsible for religious affairs, the Minister of Culture, insists on enforcing a law that would hurt the UOC-MP by forcing this church to change its name to reflect ties with the Russian Orthodox Church.  However, in contrast to the previous administration, most ministers and members of parliament affiliated with the President are much less inclined to talk about religion in public and to be publicly involved in religious life, seeming not to pay much attention to church-state relations.
High public trust of religions. Religions, as social institutions, traditionally enjoy one of the highest levels of public trust in Ukraine. Top officials and politicians like to employ this trust to strengthen their legitimacy or popularity (though sociological surveys provide no evidence that religious preferences significantly influence Ukrainians' political choices). Although Zelensky normally avoids religious events, in December 2019 he met with leaders of Ukrainian religions and asked them to support his peaceful initiatives to resolve conflict in Donbas. Some of these initiatives are harshly criticized by Zelensky's opponents as a way to capitulate to Russia. Thus, this meeting appears to be an attempt to garner support from religions in order to justify these initiatives to Ukrainian society.
But it is unclear whether Zelensky is ready to pay the price for the opportunity to enjoy this support. For example, Ukrainian religious groups are opposed to several gender policies of the state and demand their repeal. Many religions also insist on expanding religious education in public schools and have offered to establish chaplaincy in police and public medical institutions. Here, Zelensky's own view of religion and politics might clash with his invitation to religious institutions to give controversial political decisions their blessing.
Geopolitics refers to primarily the conflict with Russia, which is not only the biggest external challenge to Ukrainian statehood, but also a crucial factor for internal politics. Zelensky cannot ignore that Russia and its proxies in Donbas use Russian Orthodoxy as a weapon against Ukraine; some UOC-MP priests and believers were involved in separatism, and many UOC-MP leaders are politically pro-Russian. This anti-Ukrainian support might encourage the state to intervene in religion in order to counter such threats. At some point, especially if the Russian-Ukrainian war continues, Zelensky and his team will have to deal with this either in the previous administration's manner, by imposing restrictions on the whole UOC-MP and favoring pro-Ukrainian religions (obviously the OCU), or by successfully prosecuting specific individuals for concrete illegal activities and maintaining religious neutrality. Considering the UOC-MP's negative public image and the relative weakness of Ukrainian law enforcement institutions, this decision for Zelensky, as a populist politician, will not be an easy choice.
The trajectory of President Zelensky's religious policies will depend on which of the above-mentioned factors will prevail. In my chapter for Religion during the Russian-Ukrainian Conflict, I wrote that if Poroshenko was not re-elected, the state would likely step away from so active supporting the Orthodox Church of Ukraine. Now, President Zelensky's personal attitude and the attitudes of his team towards religion, as well the expectations of his voters, all have made this prediction come true. However, political losses and/or geopolitical challenges might push Volodymyr Zelensky to accept a tighter and more intrusive model of church-state relations, even to interfere in the inter-Orthodox conflict, just as every president of Ukraine has done before.