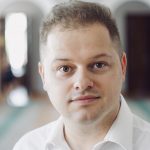 Dmytro Vovk is Director of the Centre for the Rule of Law and Religion Studies, Yaroslav Mudryi National Law University in Kharkiv, Ukraine, and co-editor of Talk About: Law and Religion.
In January 2020, it was reported that a Jewish woman in London launched a private prosecution against her ex-husband who had refused to grant her a religious divorce, called a get. Though they were divorced under civil laws, the absence of a religious divorce chained the wife in her marriage and negatively affected her life in the community, primarily by preventing her from remarrying. The woman and her lawyers claimed that the husband's behavior should be prosecuted under a 2015 law criminalizing "controlling and coercive behavior" as a form of domestic abuse. The threat of criminal conviction convinced the ex-husband to grant the woman the get, and she later revoked her action as a result.
Although the criminal case never went to trial, it is said that this case will open the door for other women to employ criminal-law protection against former spouses who refuse to grant religious divorce as leverage to gain an advantages in child custody and division of property determinations or to compel wives to pay for the divorce. And because the language of the British law against coercive behavior is neutral and general, success in this case will potentially provide protection for similar situations in other religions.
In this blog series two law and religion scholars explore religious- and secular-law aspects of the above-mentioned case and its consequences for the chained wife problem. Professor Haim Shapira explores how contemporary Jewish law addresses when a husband refuses to grant a get and in what ways the secular legal system can help unchain an aguna (chained wife). Professor Mark Hill QC analyzes the case from an English-law perspective and shows how legal tools against recalcitrant husbands, as well as unlawful marriage and divorce religious practices, have been evolving in the UK legal system.
Posts in this Conversation:
Haim Shapira. The Aguna Problem – Recent Developments
Mark Hill.  Divorce and the Chained Wife: The Interplay of Civil Law and Religious Law