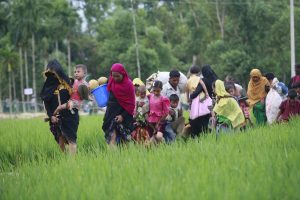 In this series we discuss the conception "grievous religious persecution" developed by Werner Nicolaas Nel in his recently published book. Nel points out that "the international justice system has remained reluctant to enforce …criminal prosecutions [of religious persecutions], ultimately due to the definitional instability and legal vagueness of the crime of persecution, which has blunted the enforceability of criminal prosecutions, resulting in impunity. The proposed solution was to propose a legally justifiable, comprehensively formulated, and pragmatically verified conceptualization of 'grievous religious persecution.'"
Employing a broad definition of religion and religious belief and distinguishing religious persecution as a type of persecution targeting primarily the religious identity of victims, Nel offers several materials and mental elements, as well as the required threshold of severity, as definitional components of grievous religious persecution and uses the example of Da'esh to illustrate how his conception will work in practice.
In her response, Michelle Coleman finds the conception of grievous religious persecution "an interesting addition to the landscape of international crimes,"which could be employed by national legislators and international tribunals established in the future to deal with crimes against humanity. However, due to political, jurisdictional, and organizational reasons, Coleman doubts the proposed conception will help the International Criminal Court address more cases on religious prosecution.
Posts in the Series:
Werner Nicolaas Nel. In Pursuit of Criminal Accountability for "Grievous Religious Persecution"
Michelle Coleman. The Applicability of "Grievous Religious Persecution" in International Criminal Law: Response to Werner Nicolaas Nel