Post published:

August 24, 2020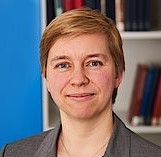 Regina Elsner is a Researcher at the Centre for East European and International Studies (ZOiS).
The 2020 Belarus Presidential Elections
After the massive falsification of its presidential election results, enormous protests have raged for over two weeks in the Republic of Belarus. Described for many years as the "last dictatorship of Europe," Belarus has been ruled by Alexander Lukashenka for 26 years. During this time, opposition movements and politicians have been systematically oppressed and every contradiction nipped in the bud. Belarus is the only European country that does not participate in the Council of Europe and does not recognize the jurisdiction of the European Court of Human Rights—a powerful regional instrument of human rights protection on the continent.
As in past elections, the current protests have been brutally suppressed by police, and thousands of men and women have been arrested and tortured in prisons. However, unlike previous protests, protesters have not stopped despite police violence; they continue to protest peacefully and often creatively with unprecedented support from state-owned businesses, hospitals, and the IT industry. It is difficult, however, to foresee how the confrontation between police and peaceful protesters will develop and even more difficult to predict how the political situation and election results will be dealt with.
Continue Reading
Religion and Civil Disobedience: The Orthodox Church and Political Protests in Belarus