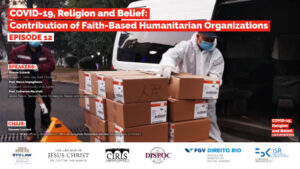 This blog post by Brett G. Scharffs, Director of the International Center for Law and Relgion Studies, and Katherine Marshall, Senior Fellow at Georgetown University's Berkley Center for  Religion, Peace & World Affairs, overviews a webinar on "COVID-19, Religion and Belief: Contribution of Faith-Based Humanitarian Organizations" held on June 25, 2020. The online discussion was the twelfth in a series of webinars organized by a coalition of organizations: The Church of Jesus Christ of Latter-Day Saints, European Union Office; BYU International Center for Law and Religion Studies; Cambridge Institute on Religion and International Studies; Bruno Kessler Foundation/CIRIS; University of Siena; and FGV Escola de Direito do Rio de Janeiro.
The COVID-19 crisis is rocking societies, economies, and institutions across the world. That includes religious communities and organizations. On June 25, an online discussion shone the spotlight on humanitarian organizations, as many are driven by faith inspiration and are playing—and are likely to continue playing—vital roles in responding to the vast human needs the crisis exposes.
Simona Cruciani, from the UN Genocide Prevention Office, moderated an exchange that centered on the immensity of the human suffering we see and on the ways in which organizations are shifting rapidly to respond. The discussion was set in the context of broader contemporary debates about religious engagement and religious freedom, offering examples of how principles translate into action on a day-to-day basis. While positive response was the main thread running through the discussion, panelists also expressed concern over hate speech, intergroup tensions and violence, and the deep inequalities that the crisis exposes so brutally.
Three panelists came to the discussion from different perspectives, although the conversation made clear the deep values they share. Professor Katherine Marshall, from Georgetown University and the G20 Interfaith Forum Association, works to bridge chasms that often separate humanitarian and development institutions from religious worlds. Sharon Eubank, director of LDS Charities, returned constantly to a human picture of suffering and the human energies that are so vivid in the response. And Professor Marco Impagliazzo, president of the Community of Sant'Egidio, highlighted how his lay Catholic community's deep commitment to the core human value of friendship and solidarity translates into care for many needy groups including the elderly, those who are homeless, and refugees.
The present crisis is unprecedented in many ways and one is the particular visibility of religious links. The vast reach of religious institutions and their social importance is unmistakable, highlighting their significant in ways that, for many, are quite new. This underscores that understanding how religious institutions are involved in society, and in health care and providing for the neediest, is a must for policymakers. This religious engagement draws attention to places where the right to religious freedom is not honored, and to the need for a sophisticated religious literacy in policy to enhance understanding of how various religious institutions function.
The challenge of meeting urgent needs for personal protective equipment (PPE) in the mountains of the American West was offered as a vivid example of community mobilization and the intermediary roles of an experienced faith organization. LDS Charities crowdsourced mask and gown production to 1 million volunteers from different faith traditions and organizations, overshooting goals. The example highlights the communication and education elements of humanitarian organizations, which appeal to people's desire to help but also nudge people towards desirable behaviors. It also highlights the real benefits of common efforts and cooperation. The work of the Community of Sant'Egidio offers another example, as in Italy, faith communities have reached vulnerable people with health information, food, and clothing. Alongside direct help comes passionate advocacy with government, spiritual care for all, and creative use of technology to overcome the barriers of physical distancing.
The economic downturn that is with us calls for resources and emergency situations that are unprecedented and that are almost certain to last a long time. Pope Francis' disgust for what he calls the culture of waste and indifference was cited as a symptom of dangerous models of selective care that devalue life. With the effort to rebuild better and to reimagine, this can change.
Religious institutions have a capacity and a responsibility to play significant roles in addressing the rise in fear and discrimination that accompanies a pandemic, perhaps inevitably. Religious mobilization is equally critical in addressing tensions and violence, from civil war to domestic violence. Grief is a facet of the current crisis that should be recognized, honored, and addressed. It begins, Sharon Eubank observed, with anger, competition, and stress. It ends, hopefully, with acceptance and shared humanity. Thus, in this crisis we cannot thrive without each other. Religious organizations need to play central roles in identifying and strengthening entities that push back against the rise in fearmongering and scapegoating; promote positive mechanisms to reach out to people who are scared and acting out; and challenge us all to do better, step up, and learn more.
But in order to survive and thrive during the crisis, barriers that can separate different entities need to break down. Faith organizations need to be invited to the policy tables so that their experience, wisdom, and community engagement can contribute in meaningful ways. Cooperation among religious communities and entities is vital and possible. A special asset these communities share is starting from the bottom, including the most vulnerable, and working up, a critical element of what we term now inclusion and successful rebuilding.
Hope is a vital element, and the discussion was replete with positive themes to inspire that hope. Among them are the enormous mobilization and creative pivoting of so many faith communities and organizations. Also encouraging are good faith efforts to learn lessons from past pandemics like Ebola and HIV/AIDS, and outreach to religious entities by many bodies including the World Health Organization and other multilateral and national organizations. Sober attention to the potential for public health measures to go too far in restricting religious communities and, vice versa, for religious communities to undermine and even thwart public health advice is a good sign that the human right to freedom of religion and belief is more widely understood.
Many challenges lie ahead. Religious entities fiercely resent being used for preset purposes, something they term instrumentalization. Too often the funder feels a right to set the agenda without much attention to other views. And there are dangers in a shallow understanding of what "religion at the table" can mean, an attitude akin to "add religion and stir." And there are real, urgent needs, with the 80 million forced migrants in today's world perhaps the most dramatic example of a place where immediate large-scale action is needed.
Looking to the future, the example of disrupted supply chains offers a metaphor for what it will take to rebuild in ways that are truly better. We can and must disrupt old, broken patterns, and develop new ones. We have proved, through the crisis, that this need not take a long time. It is possible to pinpoint where suffering is taking place and to address the needs swiftly and creatively. Each one of us, individually and as institutions, needs to confront our own biases in the search for new solutions.