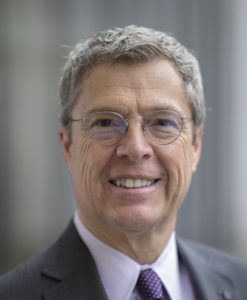 Brett G. Scharffs is Rex E. Lee Chair and Professor of Law at J. Reuben Clark Law School. He was appointed Director of the Law School's International Center for Law and Religion Studies effective 1 May 2016. Before this he had served the Law School as both Associate Dean of Academic Affairs and Associate Dean for Faculty and Curriculum.  He is a graduate of Georgetown University, where he received a BSBA in international business and an MA in philosophy. He was a Rhodes Scholar at Oxford University, where he earned a BPhil in philosophy. He received his JD from Yale Law School, where he was Senior Editor of the Yale Law Journal.  He was a law clerk on the U.S. Court of Appeals, D.C. Circuit, and worked as a legal assistant at the Iran-U.S. Claims Tribunal in The Hague. Before teaching at BYU, he worked as an attorney for the New York law firm, Sullivan & Cromwell. He has previously taught at Yale University and the George Washington University Law School. For the past ten years he has been a visiting Professor at Central European University in Budapest, and for the past seven years he has helped organize a Certificate Training Program on Religion and the Rule of Law in Beijing in partnership with Peking University Law School's Center for Administrative and Constitutional Law. He also co-organizes similar programs in Vietnam and Myanmar. He has also been working to develop a masters-level course on Shari'a and Human Rights with two universities in Indonesia. He has been a visiting professor at the University of Adelaide School of Law in Australia (2012) and Doshisha University in Kyoto, Japan (2015).
In his 19-year academic career, Brett has written more than 100 articles and book chapters, and has made over 300 scholarly presentations in 30 countries. His articles include "The Role of Humility in Exercising Practical Wisdom" (UC Davis Law Review), "Adjudication and the Problems of Incommensurability" (William & Mary Law Review), "Law as Craft" (Vanderbilt Law Review), and "The Character of Legal Reasoning" (Washington and Lee Law Review), and "Religious Majorities and Restrictions on Religion" (Notre Dame Law Review). He is currently finishing work on a book about legal reasoning and rhetoric. His field-creating casebook, Law and Religion: National, International, and Comparative Perspectives, (co-authored with his colleague W. Cole Durham, Jr.), was published by Wolters Kluwer in 2009, with an extensively revised and updated second edition appearing in January 2019. The first edition has been translated into Chinese (now in a second printing) and Vietnamese. The second edition translation into Turkish is complete, and translations into Arabic, Burmese, Indonesian, Spanish, Russian, Hebrew, and Greek are underway or planned.
Professor Scharffs has served as Chair of the Law and Religion Section of the Association of American Law Schools, and is immediate past Chair of the Law and Interpretation Section of the AALS. He is on the editorial board of the Oxford Journal of Law and Religion and the Advisory Board of the Research Unit for the Study of Society, Law and Religion at the University of Adelaide and is a member of the Board of Advisors of the Religious Freedom Institute (Washington, DC).
Talk About posts by Brett Scharffs: