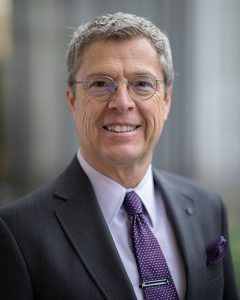 Brett G. Scharffs is Director, International Center for Law and Religion Studies and Rex E. Lee Chair and Professor of Law, BYU Law School
This article is related to President Russell M. Nelson's address on the Healing Power of Gratitude​ (November 20, 2020).
Earlier today, President Russell M. Nelson, President of the Church of Jesus Christ of Latter-day Saints shared with the world a message of hope and gratitude. This is a man whom I revere as a prophet of God, and his message is genuinely universal and will be meaningful to all people of faith and, indeed I believe, to all people. I invite you to view it and to share his message at #GiveThanks.
President Nelson shared a poignant personal experience. As a doctor, he had worked on developing the first heart-lung machine used in open-heart surgeries. Decades later, "My wife Dantzel and I were sitting on the sofa holding hands while we watched television. Suddenly, she collapsed. Despite being well- trained to treat the very thing that ended her life, I could not save my own wife." He then described the pain of losing two of his nine daughters to cancer, noting quietly, "No parent is prepared to lose a child."
In the face of loss and suffering, however, President Nelson says, "I have concluded that counting our blessings is far better than counting our problems." Despite these difficult experiences, President Nelson said, "I am so incredibly grateful, eternally, for so very many things." He then counts a few of these blessings, including the "nearly 60 years Dantzel and I shared together," and his current wife Wendy, "whom I met after Dantzel's passing. Wendy now fills my life with joy." He then expressed gratitude to God for the years he had with his daughters who have died. "This father's heart melts when I see attributes of those girls in the precious faces of their children and grandchildren."
President Nelson then expresses thanks for the "beauties of the earth and the majesty of the heavens that give us an inkling of the vastness of eternity," and "for the gift of life, for our amazing bodies and minds, that allow us to grow and learn," for "art, literature, and music that nurture our souls," and for the "opportunity to repent, start over, make amends and build character." He expresses thanks for "our families, friends, and loved ones," as well as "for the opportunity to help, cherish and serve one another, which makes life so much more meaningful. He notes that we can "even give thanks for our trials, from which we learn the things we would not know otherwise."
"Most of all," President Nelson says, "we can give thanks unto God, the Father of our spirits, which makes us all brothers and sisters—one great global family."
This year I've been working on a book about Abraham Lincoln, and President Nelson's message brought to mind Lincoln's proclamation in the fall of 1863 to "set apart and observe the last Thursday of November next as a Day of Thanksgiving and Praise to our beneficent Father who dwelleth in the heavens." This tradition has continued, and we will again commemorate Thanksgiving next Thursday, November 26, 2020.
Lincoln's petition came during the depths of the Civil War, and yet he urged everyone, not just citizens of the United States, but all the peoples of the world, to pause and express gratitude to God. If you pause and think about it, that alone is remarkable. His proclamation continued, "And I recommend to them that, while offering up the penitence for our national perverseness and disobedience, commend to His tender care all those who have become widows, orphans, mourners, or sufferers in the lamentable civil strife in which we are unavoidably engaged." This, too, seems apropos of our own day and age, when we are engaged in a mighty struggle with a devastating pandemic, as well as civil divisions that are stark and deep. Lincoln concluded his proclamation, urging everyone to "fervently implore the interposition of the Almighty hand to heal the wounds of the nations, and to restore it, as soon as may be consistent with the Divine purposes, to the full enjoyment of peace, harmony, tranquility, and union." This is a prayer we could all do well in joining today.
In his message, President Nelson notes that "As a man of science and a man of faith, the current worldwide pandemic has been of great concern to me. As a man of science, I appreciate the critical need to prevent the spread of infection." He then expresses gratitude to healthcare professionals and grieves for the many whose lives have been devastated by the pandemic. He then continues, "As a man of faith, however, I view the current pandemic as only one of many ills that plague our world, including hate, civil unrest, racism, violence, dishonesty, and lack of civility."
President Nelson's message also resonated deeply with the words of Rabbi Lord Jonathan Sacks, the former Chief Rabbi of the UK, who died recently. I've been reading Rabbi Sacks' most recent book, Morality, where he cites important social science research that confirms the healing power of President Nelson's invitation to be grateful. As Rabbi Sacks noted, we should view happiness, not as a "sensation-driven, pleasure-seeking" enterprise, but rather one rooted in the "recovery of the older philosophical and religious tradition that sees happiness in terms of a life well-led," which includes a mindset of gratitude.
Rabbi Sacks cites "one of the most famous medical research exercises of recent times, known as "the Nun Study." Directed by David Snowdon of the University of Kentucky Medical Center, it studied the health pattern of some 700 nuns of the School Sisters of Notre Dame, with particular reference to Alzheimer's disease. The nuns were aged between 75 and 107, and what gave the study its fascination and depth was the access the researchers had to their autobiographies, written when they were in their early twenties, more than half a century earlier."
Upon entering the order, the young nuns had each written a brief account of their lives, "and the researchers used linguistic analysis to draw a picture of their personalities at that early age. One of their findings was that the more the early autobiographies expressed positive emotions like gratitude, happiness, hope, and love, the more likely the nuns were still to be alive sixty years later." Indeed, "the correlations they discovered were so specific that they were able to predict with 85 percent accuracy which of the nuns would develop Alzheimer's and which would not. The difference in life expectancy between the thankful and (relatively) thankless was, on average, seven years. Being grateful adds years to your life."
This is a stunning finding. But more important than prolonging our lives, as President Nelson and Rabbi Sacks remind us, feeling and expressing gratitude, is one of the keys to a life well-led. Perhaps it is no accident that President Nelson, age 96, would be a natural part of the age cohort of the Sisters of Notre Dame.
President Nelson also included two invitations. "As a doctor," he said, "I know the value of good therapy. So, dear friends, may I prescribe two activities to help us experience the healing power of gratitude."
The first is to turn our own social media into a personal gratitude journal. "Post every day about what you are grateful for, who you are grateful for, and why you are grateful." He then asks us to reflect after one week on whether we "feel happier and more at peace." He invites us to use the hashtag #GiveThanks.
Second, he invites us to unite in "thanking God through daily prayer." He concludes by bowing his head and offering a prayer for the world and everyone in it. His prayer for the world is so heartfelt and lovely, I won't try to recount it here, but invite you to read or view it here.
As for myself, I am deeply grateful for meaningful work, devoted to the promotion and protection of freedom of thought, conscience, opinion, belief, and religion of all people in all places, rooted in a deep appreciation for the dignity, value, and worth of all human beings, of everyone everywhere. I'm grateful for the institutions of which I'm a part, and to which I strive to contribute, including the International Center for Law and Religion Studies, the J. Reuben Clark Law School, Brigham Young University, and The Church of Jesus Christ of Latter-day Saints. I am grateful for my colleagues and students, both at BYU and beyond. I'm grateful to be a part of a global network of scholars, government officials, judges, religious leaders, and human rights activists who care deeply about law and religion and are committed to learning from each other by engaging in studying the field from a comparative and international law perspective. I'm deeply grateful for my family, my parents Gil and Virginia, who have departed this world, and for my wife Deirdre, and our children, Elliot, Sophie, and Ella, as well as their spouses and families. I'm deeply grateful for religious freedom, which allows me to seek and strive to find truth, and to seek and strive to live accordingly.