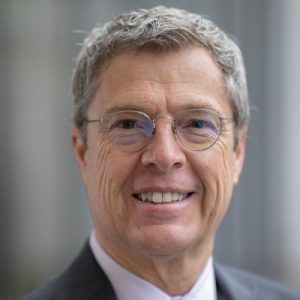 Brett G. Scharffs is Director of the International Center for Law and Religion Studies and Rex E. Lee Chair and Professor of Law at Brigham Young University's J. Reuben Clark Law School.
Scharffs, along with ICLRS Associate Director Elizabeth Clark and BYU Law Professor Eric Jensen, participated in an international forum in Uzbekistan, held at the Academy of Public Administration, 16–20 May 2022. In Tashkent, they helped organize a certificate program on religion and the rule of law, co-organized by the University of World Economy and Diplomacy. In Bukhara, Professors Scharffs and Clark participated in a conference on the Dialogue of Declarations that (1) sought to build on momentum from other declarations relating to religious tolerance and freedom and (2) culminated in the promulgation of the Bukhara Declaration. This blog post is adapted from Scharffs's discussion of the Punta del Este Declaration on Human Dignity for Everyone Everywhere, an initiative he helped lead.
Introduction
I have been invited to speak about the Punta del Este Declaration on Human Dignity for Everyone Everywhere and the role of human dignity in creating communities of toleration and respect, which is one of the primary calls to action in the Bukhara Declaration we are here to adopt and celebrate today. I begin with the first sentence of Article One of the Punta del Este Declaration because it resonates with the themes of this conference and with recent efforts to emphasize human dignity in Uzbekistan.
Article One of the Punta del Este Declaration states, "The inherent human dignity of all people and the importance of respecting, promoting, and protecting human dignity for everyone everywhere is the foundational principle and the key objective or goal of human rights, as well as an invaluable criterion for evaluating laws, policies, and government actions for how well they accord with human rights standards."
Human Dignity in Uzbekistan
It is remarkable how deeply the theme of human dignity resonates in Uzbekistan. For example, in February of this year, the President of Uzbekistan, Shavkat Mirziyoyev, made a presentation to the UN Human Rights Council in Geneva. His primary message, as explained by Akramjon Nematov, First Deputy Director of the Institute for Strategic and Regional Studies under the President of Uzbekistan, was respect and protection of human dignity as a priority of the state policy of Uzbekistan.
I believe President Mirziyoyev was only the twentieth head of state to ever address the Human Rights Council and the first from the former Soviet sphere, which is an indication of how significant human dignity is as a priority in Uzbekistan.
Second, in his remarks at this conference, Mr. Nematov explained that the primary theme of President Mirziyoyev's recent presidential re-election campaign was "human dignity, first and foremost." Isn't that a remarkable theme for a presidential campaign? I presume those here in Uzbekistan are very familiar with that slogan, but it is also important for those of us from outside Uzbekistan to understand.
Third, President Mirziyoyev has instituted what he calls the Human Dignity Index, which is an effort to evaluate the status of human dignity in each area, not of the world, but of Uzbekistan. This is a remarkable effort as well, and it chimes nicely with Article One of the Punta del Este Declaration, regarding how human dignity can be a metric for understanding how well we as societies are doing in our protection and promotion of human rights.
And finally, Dr. Akmal Saidov, First Deputy Speaker of the Legislative Chamber of the Oliy Majlis of Uzbekistan, recently informed me that this year has been proclaimed the Year of Human Dignity in Uzbekistan. So I am humbled, honored, and gratified to be back in Uzbekistan at this moment in this year, addressing this topic together.
Genesis of the Punta del Este Declaration
Regarding the Punta del Este Declaration on Human Dignity for Everyone Everywhere: The idea for this declaration had its genesis in a meeting that Jan Figel, then the EU Special Envoy for Freedom of Religion and Belief, had with us at the International Center for Law and Religion Studies at Brigham Young University in Provo, Utah, in early 2018. We were brainstorming about what we might do in 2018 to commemorate the seventieth anniversary of the Universal Declaration of Human Rights.
Ambassador Figel shared a story of his efforts to engage the government of Pakistan on freedom of religion and belief. As he explained, his efforts were met with, to say the least, polite skepticism. Finally his interlocutor asked, "What do you want to talk about?" Mr. Figel answered, "I'd like to come and talk about human dignity and how it's important for all people, at all times, in all places." With this, there was a noticeable shift, and the voice on the other side of the phone said, "Ah, human dignity, karama, in Arabic. This is an important concept in our holy book, the Qur'an. Please come. Let's talk." And as Jan Figel explained it to us, that opened the door. It helped build a bridge. It started a conversation that became increasingly substantive, increasingly candid, increasingly honest, increasingly deep, and ultimately ended in some rather substantial developments in Pakistan, one of which was the release of Asia Bibi, a prisoner of conscience who had been accused of blasphemy.
In 2018, we held a series of three conferences developing the theme of human dignity and its relationship to human rights. The first of these conferences was held at Central European University in Budapest, Hungary. Professor Renata Uitz, who is here with us in Bukhara, was the host of that conference. There we focused on human dignity as a concept and, in particular, its relationship to human rights. The theme of that conference was how human dignity can help nudge human rights discourse from tensions and conflict to reconciliation. This was followed by a conference at Christ Church at Oxford University, the focus of which was the many uses of human dignity. It turns out that human dignity is a very useful concept, not just an abstract ideal. And the third conference was held at Brigham Young University Law School, as part of our annual Law and Religion Symposium in October 2018, focused on the relationships between human dignity and freedom of religion and belief. All of this culminated in a large gathering of scholars and human rights experts in Punta del Este, Uruguay, in December 2018, to adopt and finalize the text of the Punta del Este Declaration.
The choice of Punta del Este as the sight for the promulgation of the Declaration on Human Dignity for Everyone Everywhere was symbolic, just as our gathering in Bukhara has symbolic significance. We wanted a venue located in the global south. We wanted it to be in Latin America because restrictions on freedom of religion are lower in Latin America than anywhere else in the world. And we wanted it to be in Uruguay, which is a secular country on a continent that is deeply religious and which on its easternmost point in Punta del Este has a very famous lighthouse, illustrating our hope that the Declaration could be a light helping us navigate the treacherous waters in our world today.
Punta del Este Declaration: Lessons Learned
I would like to share a few of the things we learned in the process of drafting the Punta del Este Declaration.
First, as noted, it is a way to start conversations and build bridges with respect to human rights. It also has the effect of de-politicizing human rights. Unfortunately, in our era, human rights have become very contested and contestable. In some countries—I think of Nigeria, for example—I am told that in the local language the word for human rights is a newly created foreign word. And so, quite naturally, human rights can feel like a foreign concept because it has been imported into the very language. Human dignity, on the other hand, is an indigenous concept that resonates deeply in Nigerian society. And so focusing on human dignity becomes a way of initiating conversations in a constructive way about human rights.
We also learned that human dignity is a powerful antidote to toxic identity politics. Naturally, our identities are important to each of us, and we all have multiple identities. But if you follow U.S. politics, even from a distance, you probably understand that identity politics has become a very destructive force in our political discourse. And one thing that human dignity does is remind us that in spite of all of our identities, all of our differences, there is something that we all share, which is deeper and even more fundamental, and that is our humanity, our dignity as human beings.
Finally, human dignity has a way of elevating rather than degenerating human rights conversations. When we get together to talk about human rights, when we gather to talk about freedom of religion and belief, it is easy for us to start pointing fingers of blame and to be critical of one another. Somehow human dignity encourages us not to be just concerned about ourselves and our own identities but to be concerned about everyone and our shared humanity.
The Bukhara Declaration
I believe that the call in the Bukhara Declaration for creating cultures of mutual tolerance and respect fits in a very natural and progressive way with the Punta del Este Declaration. I believe—and I say this even when I am not in Uzbekistan—that Uzbekistan, a little like Indonesia, is in a unique position to be a leader in the world with respect to our understanding of human dignity, tolerance, mutual respect, and living together in love and peace. Both countries have long histories of tolerance and pluralism. Both are homes of schools of Islamic thought that emphasize peace, pluralism, and strategies for living in harmony one with another. And of course, as we will hear more about from Mrs. Dilnoza Muratova, Deputy Director of the National Center for Human Rights of the Republic of Uzbekistan, Uzbekistan was the primary mover behind the 2018 United Nations General Assembly Resolution on Education and Religious Tolerance.
I began by reading the first sentence of the Punta del Este Declaration, Article One. I would like to end with the second-to-last sentence of the Bukhara Declaration, which we are here to adopt. The Bukhara Declaration culminates with "a call for representatives of all religions to promote the development of a culture of tolerance and respect for human dignity in societies." This is something I, and I hope all of us, can endorse.