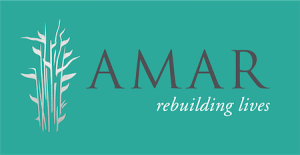 In 2022, the ICLRS cosponsored two conferences as part of The AMAR International Charitable Foundation's Windsor Dialogue series.
Baroness Emma Nicholson of Winterbourne, Member of the UK House of Lords, founded AMAR in the early 1990s in response to persecution of Marsh Arabs in southern Iraq. As conflict in the Middle East resulted in greater numbers of refugees and internally displaced persons (IDPs), AMAR expanded its charitable efforts to encompass the development of primary health care, mental health care, educational, and other resources in Iraq and elsewhere. Much of AMAR's work has focused on assisting groups that have suffered religious persecution, particularly the Yazidis of northern Iraq.
The goal, of course, is to help groups that are persecuted on the basis of their religious identities and affiliations make the journey from persecution to inclusion.

—Brett Scharffs, ICLRS director
The Windsor Dialogue series of conferences began in 2016 with the primary objectives of (1) investigating triggers leading to the persecution of religious minorities and (2) helping individuals live dignified lives in IDP and refugee camps so that they can flourish when they leave the camps. The ICLRS has cosponsored the last three conferences in the Windsor Dialogue series.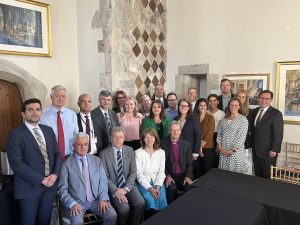 How do we define success? Well, we want everyone to be as happy and as healthy and as successful as we would hope our families would be. That's success.

—Baroness Emma Nicholson, MP, AMAR founder and chairman
A principal focus of the April and July 2022 conferences was to create a strategy to draft and propose protocols to the United Nations and other governing bodies that would provide needed mental health interventions in refugee and IDP camps—including programs incorporating the religious music of persecuted minorities. Conference participants included religious leaders, academics, and practitioners in the fields of mental health, music education, Islamic studies, refugee camp management, faith-sensitive humanitarian approaches, UN advocacy, and other related specialties.
In this conference, we'll be looking at how music, mental health, and spiritual wellbeing can be better appreciated, nourished, and developed so that the people in the camps have a better chance for the future, and are better cared for, and are not just trapped in political and legal safe spaces but are given political and legal frameworks within which they can learn to flourish, share, and grow. That's the big aspiration.

—Bishop Alastair Redfern, AMAR trustee and Windsor Dialogue convenor
The first 2022 conference took place in Salt Lake City, Utah, 20–21 April, focused on the theme "From Persecution to Healing, Hope, Resilience, and Community: Building the Framework to Promote Mental Health Through Music Therapy in Refugee Camps." The second took place at Cheyneygates, Westminster Abbey, in London, 7–8 July, focused on "Life Beyond the Camps: Freedom and Flourishing."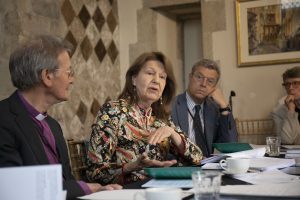 Both conferences included hymn-singing sessions where presenters introduced hymns related to healing, hope, and resilience, from the traditions of both the Anglican Church and The Church of Jesus Christ of Latter-day Saints. The Salt Lake City musical session was held in the historic Salt Lake Tabernacle; the London session was held at St. Clement Danes Church, featuring the chamber vocal ensemble Voces Episcopi. Both events featured accompaniment by Richard Elliott, principal organist of the Tabernacle Choir at Temple Square.
The following posts, summarizing conference presentations, are representative of just some of the expertise and viewpoints shared during the 2022 Windsor Dialogue conferences.
Bishop Alastair Redfern. Fostering Frameworks that Set People Free
Sharon Eubank. Eight Years, Three Steps
Alastair Ager. A Faith‑Sensitive Approach in Humanitarian Response
Maryanne Loughry. The Promotion of Music, Mental Health, and Preservation of Culture and Religion to International Agencies
Fitzroy Morrissey. Islamic Views on Music
Erin Bailey. Impact of Music Participation on the Psychological Wellbeing of Refugees
Aldo Zammit Borda. Why Iraq Should Enact Laws Criminalizing Genocide
Andrew Methven. The AMAR Foundation: Remedies to Religious Persecution, Lessons in Peacebuilding