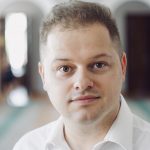 A Conversation, organized by Dmytro Vovk,
Director of the Centre for the Rule of Law and Religion Studies, Yaroslav Mudryi National Law University in Kharkiv, Ukraine, and co-editor of Talk About: Law and Religion.
On September 19, 2019 the Organization for Security and Co-operation in Europe's Office for Democratic Institutions and Human Rights (OSCE/ODIHR) released its Freedom of Religion or Belief Policy Guidance. Based on the OSCE comprehensive concept of security, the policy guidance provides guiding principles and a number of recommendations to address a number of notable issues at the intersection of freedom of religion or belief and security in the OSCE region. Its primary audience is policymakers concerned with security and with religion, but religious communities, civil society organizations, and media will also find the analysis and practical guidance useful.
In this set of blogs, we provide reflections on the policy guidance written by academics, human rights activists, and state officials with relevant expertise. International law and religion professor Jeroen Temperman discusses securitization of religious freedom discourse and questions the effectiveness of specific "security laws" and measures, which are often employed to disadvantage unorthodox and unpopular religions and systems of belief rather than to protect security for everyone. Turkish human rights activist Mine Yildirim addresses gender implications of religious freedom and security in the context of the OSCE/ODIHR policy guidance's recommendations. In their respective pieces, Asma Uddin and Dmytro Vovk describe American and Ukrainian cases of disproportionate law-enforcement and legislative interference with religious freedom in the name of public order and national security. Finally, Peter Weiderub, Special Envoy for Religion in Conflict and Peace Building for Sweden's Ministry of Foreign Affairs, has written a piece on how respecting freedom of religion or belief can contribute to peaceful and inclusive societies.
Posts in this Conversation: