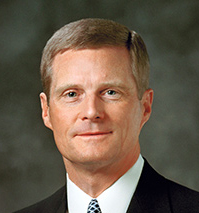 This post is an address by Elder David A. Bednar of the Quorum of the Twelve Apostles of The Church of Jesus Christ of Latter-day Saints delivered on 17 June 2020 at the 2020 Religious Freedom Annual Review.
I am grateful to participate with you in the Religious Freedom Annual Review at the J. Reuben Clark School of Law at Brigham Young University.  This is a most opportune time to consider together the importance of religious freedom.  And I appreciate the invitation to share a few of my thoughts with you.
The Prodigal Son
In the fifteenth chapter of Luke in the New Testament, we learn about a young man who obtained his inheritance from his father and then traveled to a far country (See Luke 15:11-32.) This young man "wasted his substance with riotous living." (Luke 15:13) When he had squandered all of his resources, a mighty famine arose in that land, and "he began to be in want." (Luke 15:14)
     And he went and joined himself to a citizen of that country; and he sent him into his fields to feed swine.
     And he would fain have filled his belly with the husks that the swine did eat: and no man gave unto him.
     And when he came to himself, he said, How many hired servants of my father's have bread enough and to spare, and I perish with hunger!
     I will arise and go to my father, and will say unto him, Father, I have sinned against heaven, and before thee,
And am no more worthy to be called thy son: make me as one of thy hired servants.
And he arose, and came to his father." (Luke 15:14-20; emphasis added)
This story has a marvelously happy ending.  The return of this son to his home lead to a loving reconciliation with his father and a restoration of his station in his family.
A Wake-Up Call
The parable of the prodigal son describes the experience of a young man who became lost and subsequently found his way back home.  Please note two key aspects of this young man's experience.
First, he "began to be in want" when a mighty famine arose in the land.  As this natural calamity unleashed its negative effects, I presume his inheritance was gone.  I also imagine that many of the friends who enjoyed his companionship while he had plenty of money had long since told him goodbye.  He may have been homeless.  But ultimately, it was the famine and his resultant hunger that constituted a strong "wake-up" call.  He was shaken awake from the customary patterns of his lifestyle by an increasing realization of his inability to fulfill his most basic needs.
Second, the young man's wake-up call lead him to "come to himself."   This poignant phrase suggests to me a process of examining aspects of his life that previously had been unexamined, resulting in a piercing personal realization of his present circumstances and what he had become.  He also was willing to strive for a timely and needed course correction:  "I will arise and go to my father."
Our world has seemingly been filled recently with strong "wake-up calls."  From natural disasters to a deadly pandemic sweeping the globe to a most pernicious social plague of racism, we are daily reminded that we need to awaken to the perilous times that surround us, come to ourselves, and arise and turn to our Divine Father, who desires to instruct and edify us through our trials.
COVID-19 Constraints Can Be Blessings
Just as the famine for the prodigal son was a pivotal turning point in his life, so COVID-19 can help us to realize what we have not fully realized before.  The following video highlights a number of simple wake-up calls that people have received because of COVID-19.
Video – The Great Realisation (4:00)
__________________________________________________________________
Several years ago, I spent a Sunday afternoon in the home of my apostolic associate, Elder Robert D. Hales, as he was recovering from a serious illness.  We discussed our families, our quorum responsibilities, and important life experiences.
At one point I asked Elder Hales, "You have been a successful husband, father, athlete, pilot, business executive, and Church leader.  What lessons have you learned as you have grown older and been constrained by decreased physical capacity?"
Elder Hales paused for a moment and responded, "When you cannot do what you have always done, then you only do what matters most."
I was struck by the simplicity and comprehensiveness of his answer. My beloved friend shared with me a lesson of a lifetime—a lesson learned through the crucible of physical suffering and spiritual searching.
For Elder Hales, the limitations that were the natural consequence of advancing age, in fact, had become remarkable sources of spiritual learning and insight.  The very factors that may have appeared to limit his effectiveness became some of his greatest strengths.  Physical restrictions expanded his vision.  Limited stamina clarified his priorities.  Inability to do many things directed his focus to a few things of greatest importance.
Thus, constraints and limitations can be remarkable blessings, if we have eyes to see and ears to hear.  And this same truth applies to all of us today as we wrestle with the effects of a pandemic.
COVID-19 Wake-Up Calls
The following examples highlight some of the things we may now see and hear more distinctly because of the demands and constraints imposed upon us by COVID-19.
COVID-19 has alerted us to many of the limitations in the supply chain processes that bring food from the fields, farms, and processing plants to our local grocery stores and kitchen tables.
COVID-19 has alerted us to our dependence upon foreign nations for many of our essential medical supplies, pharmaceuticals, and a wide variety of other strategically important products.
COVID-19 has alerted us to many of the constraints of just-in-time inventory and delivery systems for manufacturing plants and retail businesses.
COVID-19 has alerted us to many of the deficiencies in our national and local health care systems.
COVID-19 has alerted us to the importance of defending the borders between personal liberty, constitutional rights, and governmental authority.
COVID-19 has alerted us to many attacks on the freedoms of religion, speech, and assembly.
And the list goes on.  The buzzer on the COVID-19 alarm clock just continues to ring and ring and ring.