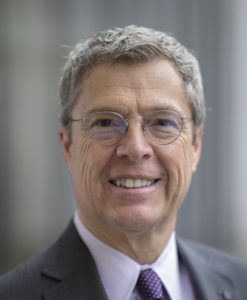 Brett G. Scharffs is Director, International Center for Law and Religion Studies and Rex E. Lee Chair and Professor of Law, BYU Law School
I had only been at the law school for three years when the International Center for Law and Religion Studies was founded in January 2000. Care was given to the creation of our mission statement which speaks of helping secure the blessings of freedom of religion and belief for all people in all places in three specific ways: (1) by expanding, deepening, and disseminating knowledge and expertise; (2) by facilitating the growth of networks of scholars, experts, and policymakers; and (3) by contributing to law reform processes. At the heart of any academic center is scholarly work. From 2000 to 2020 the Center and its scholars have produced 243 publications, including books, articles, and book chapters. This is a rate of more than a dozen publications per year.
One of the early book projects was the deskbook Facilitating Freedom of Religion and Belief. Several years ago, Cole Durham and Bob Smith took over the most important treatise on religious organizations and the law. Another major undertaking was the four-volume Encyclopedia of Law and Religion, which includes standardized information on law and religion in nearly 200 countries, as well as articles on many international organizations relating to law and religion. Elizabeth Clark and I contributed a book on religion and law in the USA to a book series that includes similar books on approximately 20 other countries. Cole Durham and I authored the first-ever case book for teaching law students about law and religion from a US, international, and comparative law perspective. This book has become the primary global resource for teaching law students, among others, about the field of law and religion in a way that looks beyond national boundaries. Finally, this symposium has generated more than 20 special issues of the BYU Law Review, featuring many of the papers that have been produced at our annual symposium over the last 26 years.
In addition to publications, the Center is well known as a convener and a participant in conferences. This is the 27th annual Law and Religion Symposium held at BYU Law School. We believe this has become the premier global recurring annual international conference on law and religion, but the symposium is only one of many conferences and events that the Center organizes or participates in each year. In the past 20 years, the Center has participated in nearly 800 conferences in nearly 90 countries. That is an average of 40 conferences per year. We have also participated in organizing and supporting regular annual regional conferences in 8-10 areas of the world. This year as we hit the pause button on international and domestic travel, we have participated in a remarkable 14-week series of online webinars examining the coronavirus crisis from a global perspective. In 2018 and 2019 we were delighted as the in-person attendance at our Religious Freedom Annual Review surpassed 500 people. This year, while we weren't able to gather in person, we reached an audience of more than 100,000 people, 200 times as many people, due to the online format.
The Center's teaching programs are continuing. This semester, I am teaching our usual offering of two law and religion seminars at BYU Law School. As we have for more than 20 years, Professor Durham and I also taught an online version of our courses on freedom of religion at Central European University. The Center has also helped organize certificate training programs on religion and the rule of law. These programs each last from one to three weeks and provide participants with a comprehensive introduction to law and religion from a comparative and international law perspective, typically with professors participating from 5-10 countries in each program. We have also instituted a program for Global Scholars at Oxford University, held for three weeks each summer, helping young professors learn how to teach a global course on law and religion, and including intensive writing tutorials to help them become published English language scholars.
The crown jewel of everything we do is our students. Each year, we have a group of approximately 15 summer research fellows, who typically spend half of the summer after their first year of law school on an international externship, and the other half working at the Center. This year, we had an extraordinary group of 16 students, many of whom completed their international externship electronically. Over the years, we have had 243 Research fellows, as well as 598 students who have worked on the Symposium's Executive Committee, as well as thousands of volunteers who have helped host the symposium.
Our theme this year for the symposium, "Religious Freedom: Rights and Responsibilities," was chosen intentionally. With the extraordinary challenges relating to the global coronavirus pandemic including facing this time of physical distancing, we are mindful of the importance of social connection. At a time when we worry about our rights, including rights relating to religious freedom, we are mindful of the duties that accompany those rights, as well as the responsibilities we owe to each other.
Posts in the Series
President Eyring's Welcoming Remarks
Panel Discussion: How Religions and Religious Organizations Contribute to the Common Good