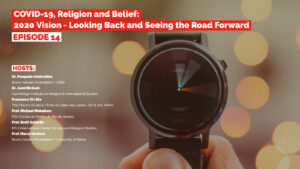 Since its launch in April 2020, our Covid-19, Religion and Belief webinar series has offered hundreds of academics, civil society, government, and religious leaders a space to reflect upon some of the consequences of the pandemic and its effects on freedom of religion or belief (FoRB). Using a cross-cutting approach, we looked at the impact of the pandemic at the intersection of religiosity, religious freedom, civil rights, the economy, and humanitarian aid.
The aim of our concluding webinar was to take stock of good practices and lessons learned and try to imagine what the world will look like six months from now. To accomplish this, this episode was slightly different from the others. We wanted this to be truly a participatory exercise. To this end, listeners were invited to respond to the question, 'How has Covid-19 impacted your region, what you have learned from this experience, and what you will do (or think should be done) moving forward?'
To capture this final webinar, and review the entire series, we have compiled the posts by Brett Scharffs, Pasquale Annicchino, Judd Birdsall, and Marco Ventura.

The Series Hosts:
Dr. Pasquale Annicchino
Bruno Kessler Foundation / CIRIS
Dr. Judd Birdsall
Cambridge Institute on Religion & International Studies
Francesco Di Lillo
The Church of Jesus Christ of Latter-day Saints – European Union Office
Prof. Michael Mohallem
FGV Escola de Direito do Rio de Janeiro
Prof. Brett Scharffs
BYU International Center for Law and Religion Studies
Prof. Marco Ventura
Bruno Kessler Foundation / University of Siena